Preschool Registration
27 February 2021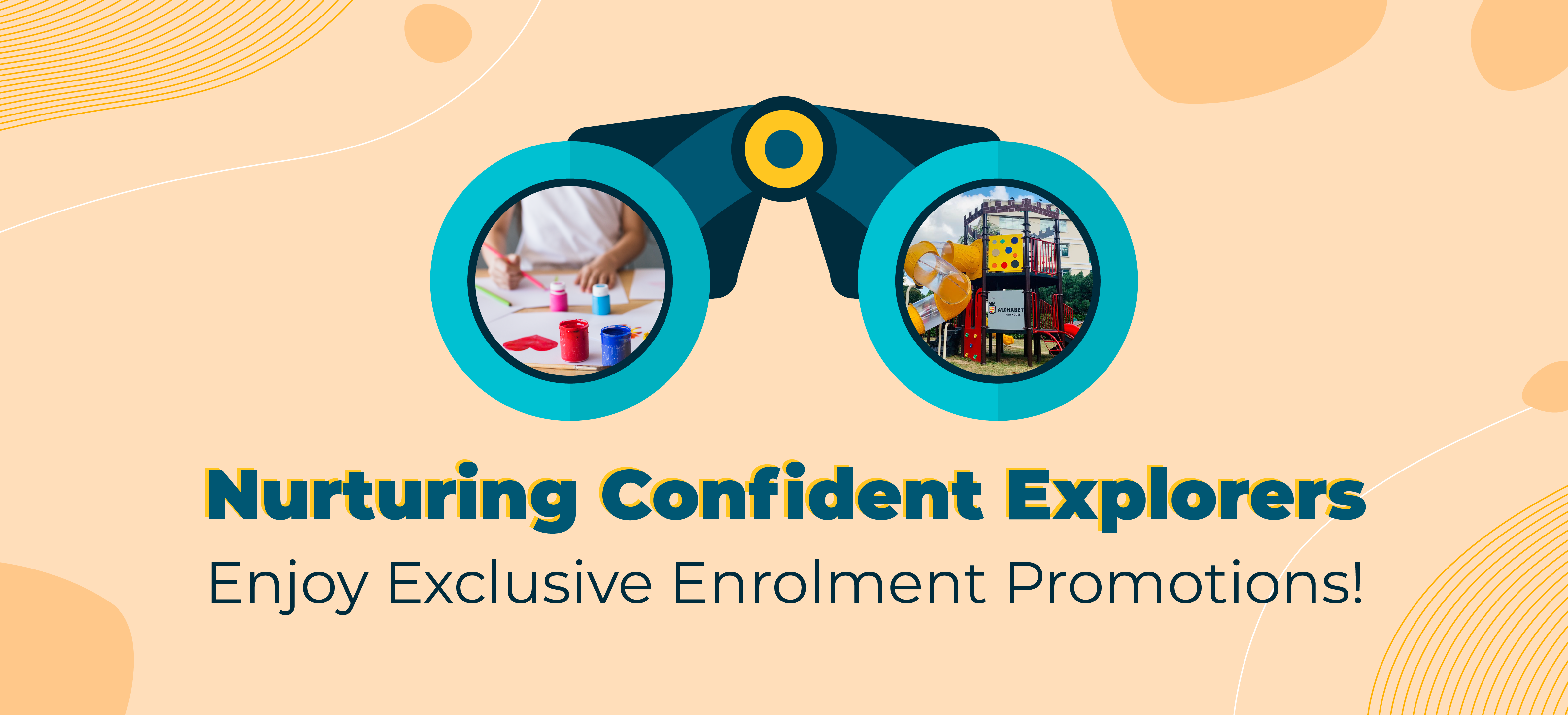 Play helps children develop key language and communication skills and builds their confidence. As children explore their surroundings during playtime, they learn to communicate effectively and listen intently to their peers, gaining more confidence in social interactions. Research shows play-based learning enhances children's academic and developmental learning outcomes. At Alphabet Playhouse, we pride ourselves on providing a fun and enriching early learning journey for every child, nurturing them into confident explorers!
Register your interest to attend a Virtual School Tour of our East Coast centre and enjoy our Exclusive Enrolment Promotions worth up to $1,400
Why Alphabet Playhouse?
We are a trusted premium preschool with over 20 years of experience. In 2021, we are pleased to announce an enhanced curriculum framework. The core pedagogy of our enhanced curriculum framework is based on a popular concept by world-renowned Stanford University psychologist Carol Dweck called the "Growth Mindset" – the belief that a child's skills and qualities can be cultivated through effort and perseverance. Through the array of fun and exciting activities at our centres, this mindset will be instilled and reinforced in every Alphabet Playhouse child!
Apart from the Growth Mindset, our curriculum framework also includes a bilingual Integrated Programme called World AdventurerTM, where children explore the world around them in a multi-disciplinary manner across various themes, projects and stories, alongside numerous signature programmes!
Teacher Professional Development
In 2020, Alphabet Playhouse launched a revamped professional development programme for its preschool teachers. The revamped programme, titled the 'Rosette Programme' seeks to map out clear career progression pathways and boost the knowledge and skills of preschool educators.
In line with the Early Childhood Development Agency (ECDA)'s announcement to review preschool teachers' professional development, this initiative supports our belief that alongside our unique holistic programme, our preschool educators play an important role. At Alphabet Playhouse, our teachers will need to lead children, unleash their potential and grow their courage, confidence, creativity, joy for learning and resilience.
Quality Preschool For 18 Months To 6 Years Old
Renowned for its unique adventurous concept, Alphabet Playhouse offers learning and enrichment programmes for children from 18 months to 6 years old; in the playgroup, nursery and kindergarten levels. Our bilingual curriculum nurtures all aspects of the child's development, facilitating the transition to primary school.
Growth Mindset Framework
Alphabet Playhouse's holistic curriculum is based on the Growth Mindset Framework, giving focus to Sports, Music and Nature to empower your child's learning through an array of fun and exciting activities. Children with Growth Mindset believe that intelligence can be nurtured and those with this mindset tend to work harder because they know they can improve themselves.
Bilingual Integrated Programme
To nurture our students with a well-balanced curriculum, our curated bilingual integrated programme, World AdventurerTM allows our students to explore the world around them in a multi-disciplinary manner across various themes, projects and stories, alongside numerous signature programmes such as Star Literacy (English), Math Whiz (Mathematics), Little Lotus (Mandarin) and Ready, Set, Grow! (Sports).
Through our complete & interesting curriculum, it provides children a fun way of learning Languages, Numeracy, Science and the Arts. It cultivates students' social, emotional and cognitive development during their formative years and lays the groundwork for on-going success in Primary school education and lifelong learning!

Chinese Language Lesson
At Alphabet Playhouse, our curriculum focuses on the holistic development of the child through hands-on and fun lessons based on lots of movement and songs. Art and music is incorporated to help children learn and appreciate the Chinese language in an engaging manner. With the Cajon drum, Chinese is innovatively taught through the pounding of the drum to develop the child's coordination and stimulate brain function.

Japanese Language Lesson
We provide the best trilingual environment for our Japanese students living in Singapore. Complimentary Japanese classes, conducted by an experienced native Japanese teacher, are held twice a week.
Interesting Outdoor Activities
Alphabet Playhouse @ East Coast Centre is certainly a wonder and a dream come true for every child. Little ones laugh in delight as they frolic and play in a vast area filled with a multitude of slides, climbing walls, monkey bars and more. They scoop, dig, pour and sift in the covered sandpit and then go splashing in the cool outdoor pool for some exciting water play.
The great outdoors is where the magic of learning truly happens as they explore and discover the abundant and lush flora that grows all around the school. With such a huge play area, the little tots are spoilt for choice as they choose their favourite mode of conveyance, from tricycles to kick-scooters, and zoom around exploring with their friends.

Here what our Happy Parents say:
"Without each and every one of you, Zachary would not be able to turn from a cry baby to an independent boy! All of you definitely made a difference in his life! Thank you!"

– Choo See Yin, parent of Zachary Teh, East Coast

"Dear Teachers, only with your help, patience and daily perseverance can we turn these little souls, into capable individuals with a value system strong enough to sustain them for the great challenges that lie ahead of all of us. Thank you for your continued support!"

– Ayako and Alex, parents to Matias and Stefan Parev, East Coast
Benefits of our Live Virtual School Tour
Talk to our friendly and passionate educators in real-time.

Learn more about our unique pedagogy.

Reduce travelling and enjoy a Live Virtual Tour of our facilities and learning spaces.

Find out about the fees, subsidies and secure the Registration Promotion.
Register Your Interest Now