Experience East Coast Centre
16 August 2019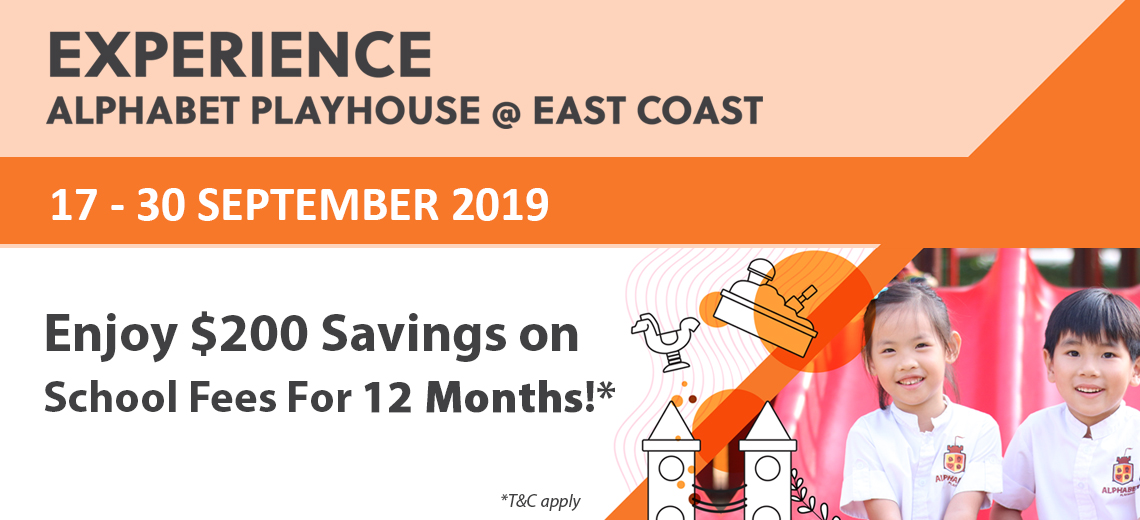 Alphabet Playhouse @ East Coast Centre is certainly a wonder and a dream come true for every child. Little ones laugh in delight as they frolic and play in a vast area filled with a multitude of slides, climbing walls, monkey bars and more. They scoop, dig, pour and sift in the covered sand pit and then go splashing in the cool outdoor pool for some exciting water play.
The great outdoors is where the magic of learning truly happens as they explore and discover the abundant and lush flora that grows all around the school. With such a huge play area the little tots are spoilt for choice as they choose their favourite mode of conveyance, from tricycles to kick scooters, and zoom around with their friends to their hearts content.
Here at Alphabet Playhouse, we encourage the children to express themselves freely and seek to unearth their true potential through a holistic curriculum that emphasizes on fun and adventurous learning. With sports, arts and music infused into the syllabus, the children become more confident, independent and analytical whilst developing great social skills and strength of character.
Visit us at Alphabet Playhouse @ East Coast from 17 – 30 September 2019. It would certainly astound you to see what an amazing learning experience and environment we can provide for your child. There are exclusive promotions for new enrolments too. So hurry and register for a personalized tour now!

Alphabet Playhouse's holistic curriculum focuses on sports, music and nature to empower your child's learning through our fun, creative and well-balanced programmes!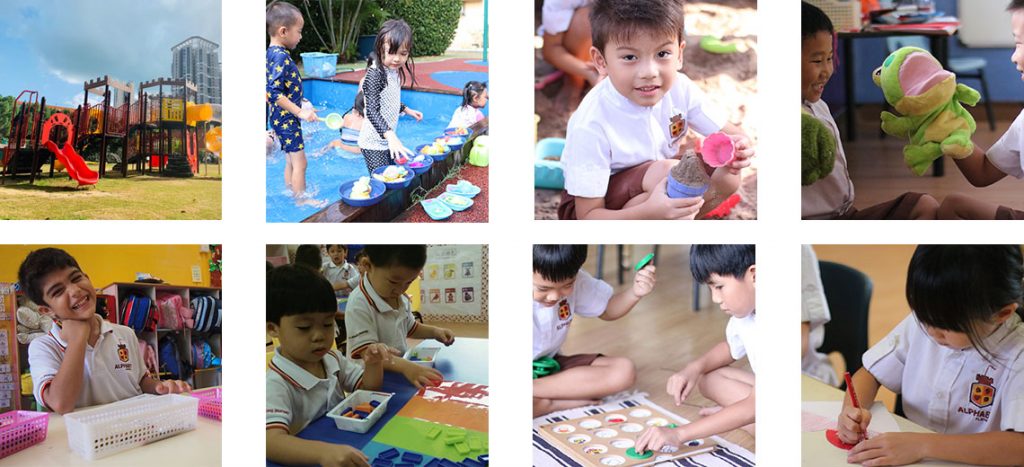 With over 20 years of quality education under our belt, our immersive environment ensures that your child will develop a sound foundation in the languages, mathematics, arts and sports, along with social and creative thinking skills through experiential learning.
Here's what our happy parent said about us:
As our oldest child graduates from Alphabet Playhouse this month Nov 2015, we are so happy when we think back to all the moments that have helped shape his learning and our family's experience in Singapore. I flip thru the pictures of the past 5 years and they are filled with incredible memories that have Alphabet Playhouse at the center. From the Singapore National Day celebrations, to all the birthdays we celebrated at the school, to the tremendous year end concerts. The friendships that we created with the other parents as well as our children's friendships with other students will be lifelong friendships.
None of this could have been possible if not for all the teachers who care very deeply for every student and of course the leadership and compassion of the school principal Miss Sharon Wan. They are all very kind, flexible and open about how our children are doing at school. We wanted a school that would allow us to be around and make the most of the precious pre-school time. We were very lucky to find Alphabet Playhouse which became a big part of our family.
As our oldest child graduates from Alphabet Playhouse this month, we will be very emotional that this important chapter in his life is coming to an end. But, we are excited in anticipation for the experiences to come and the learning that will shape and grow our other two children.
Thank you to everyone at Alphabet Playhouse,
Steve Repasky
Event Details
Date:          17 – 30 September 2019 (Monday to Friday)
Location:   440A Upper East Coast Road, Singapore 466497
Time:           9.30 AM – 11.30 AM / 3.00 PM – 4.00 PM
Note: For Saturday slot, it is strictly upon request and subjected to availability, please submit a registration on the following online form and contact our centre for checking.
Promotion
Waiver of Registration Fee
$200* off monthly school fees for 12 months for full-time childcare programme. (Total value: $2400).
For half-day childcare programme, promotion is $100* off monthly school fees for 12 months. *T&Cs apply.
Benefits When You Visit Us During Period
Meet our friendly and passionate Principal & Teachers
Discover how we develop your child's confidence by nurturing his/her creativity, communication and critical thinking skills
Have a look at our centre facilities and our amenities for your child
Find out about the fees, subsidies and enjoy the promotion
Register a Centre Visit Now