2021 Enrolment Promotion
13 November 2020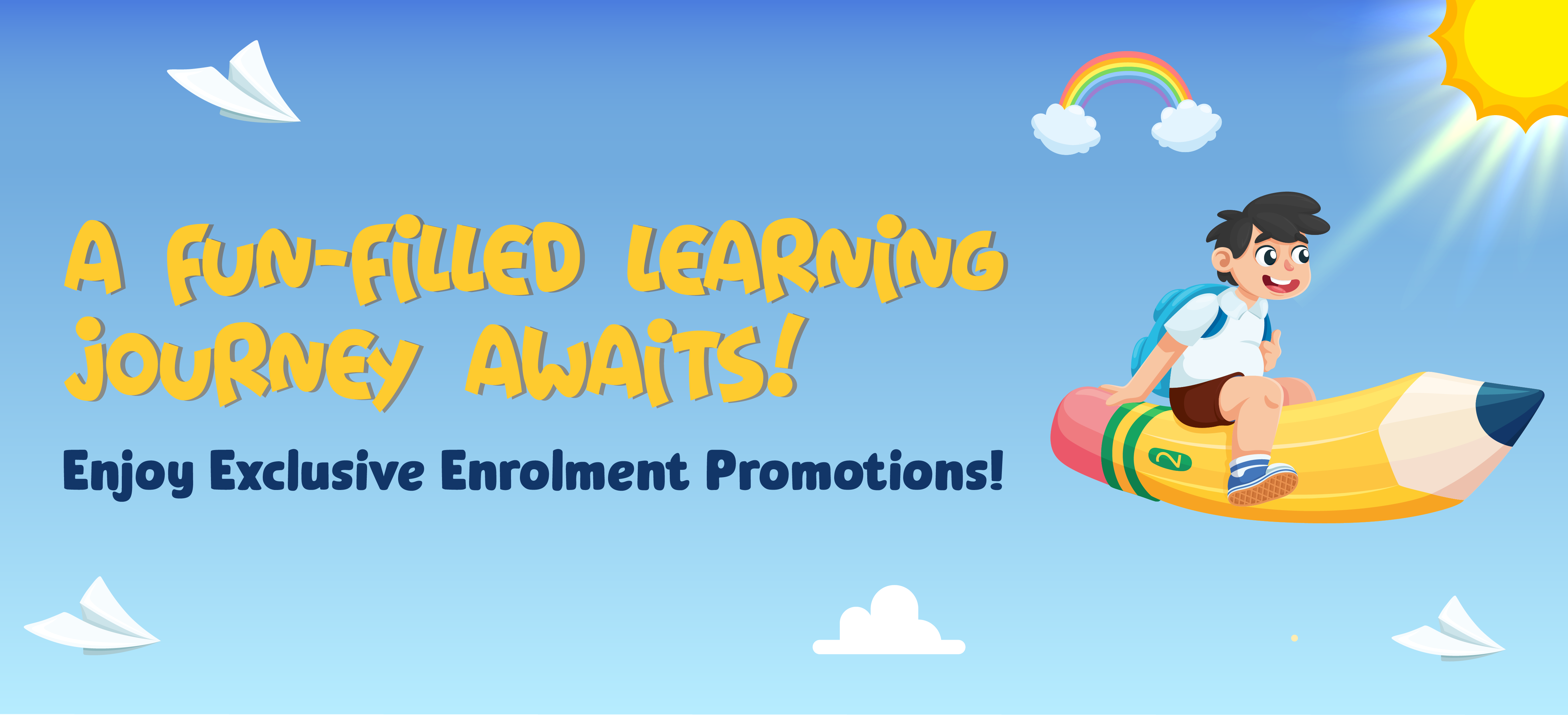 Express Your Interest For A Personalised School Tour Now!
We are now accepting registrations for 2021! Enjoy our Exclusive Enrolment Promotions & save up to $1,400 when you express your interest for a School Tour now!
Enjoy Exclusive Promotions When You Enrol Your Child With Us!
Why Alphabet Playhouse?
We are a trusted premium preschool with over 20 years of experience. Our unique curated holistic curriculum focuses on Sports, Music and Nature to empower the child's learning through our fun, creative and well-balanced programmes! Our Play-based learning nurtures a sound foundation in Languages, Mathematics, Science, Arts & Sports along with Social and Creative Thinking Skills.
Quality Preschool For 18 Months To 6 Years Old
Renowned for its unique adventurous concept, Alphabet Playhouse offers learning and enrichment programmes for children from 18 months to 6 years old; in the playgroup, nursery and kindergarten levels. Our bilingual curriculum nurtures all aspects of the child's development, facilitating the transition to primary school.
Holistic Curriculum
Alphabet Playhouse's holistic curriculum focuses on Sports, Music and Nature to empower your child's learning through a fun, creative and well-balanced programme. Through our play-based approach, every experience or encounter presents the child with an opportunity for learning.
Well-rounded Education
Our unique play and musical-based curriculum provides the student with a fun method of learning Languages, Numeracy, Science and the Arts. It cultivates students' social, emotional and cognitive development during their formative years and lays the groundwork for on-going success in Primary school education and lifelong learning.

Chinese Language Immersion
At Alphabet Playhouse, our curriculum focuses on the holistic development of the child through play-based programmes such as the "Learning Chinese with the Cajon Drum" programme. Chinese is innovatively taught through the pounding of the drum to develop the child's coordination and stimulate brain function.

Japanese Language Lesson
We provide the best trilingual environment for our Japanese students living in Singapore. Complimentary Japanese classes, conducted by an experienced native Japanese teacher, are held twice a week.
Outdoor Activities
Alphabet Playhouse @ East Coast Centre is certainly a wonder and a dream come true for every child. Little ones laugh in delight as they frolic and play in a vast area filled with a multitude of slides, climbing walls, monkey bars and more. They scoop, dig, pour and sift in the covered sandpit and then go splashing in the cool outdoor pool for some exciting water play.
The great outdoors is where the magic of learning truly happens as they explore and discover the abundant and lush flora that grows all around the school. With such a huge play area, the little tots are spoilt for choice as they choose their favourite mode of conveyance, from tricycles to kick-scooters, and zoom around exploring with their friends.

With over 20 years of quality education under our belt, our immersive environment ensures that your child will develop a sound foundation in the Languages, Mathematics, Arts and Sports, along with social and creative thinking skills through experiential learning.
Parent Review:
"Without each and every one of you, Zachary would not be able to turn from a cry baby to an independent boy! All of you definitely made a difference in his life! Thank you!"

– Choo See Yin, parent of Zachary Teh, East Coast

"Dear Teachers, only with your help, patience and daily perseverance can we turn these little souls, into capable individuals with a value system strong enough to sustain them for the great challenges that lie ahead of all of us. Thank you for your continued support!"

– Ayako and Alex, parents to Matias and Stefan Parev, East Coast
Benefits of our Live Virtual School Tour
Talk to our friendly and passionate educators in real-time.

Learn more about our unique pedagogy.

Enjoy a Live Virtual Tour of our facilities and learning spaces.

Find out about the fees, subsidies and secure the Exclusive 2021 Enrolment Promotions.
Register Your Interest Now
Thank you for your interest in Alphabet Playhouse! Our event has ended,
for any enquiries, please contact us via our online form at www.alphabetplayhouse.com.sg/contact-us.