2020 Enrolment Starts Now!
21 October 2019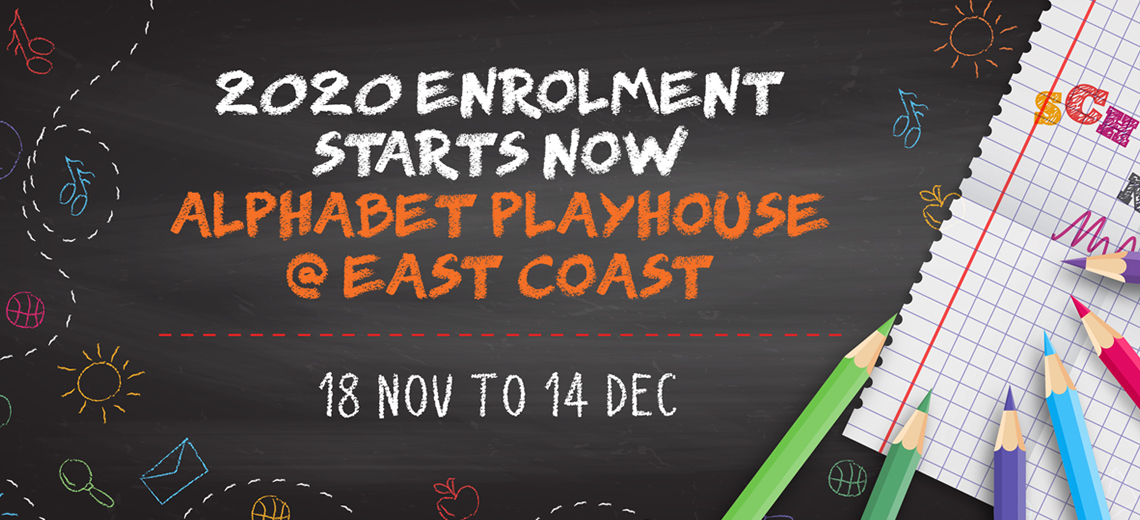 Give your child an outstanding foundation for life. Alphabet Playhouse is a trusted premium preschool with over 20 years of experience. Renowned for its unique adventurous concept, Alphabet Playhouse offers learning and enrichment programmes for children from 18 months to 6 years old, in the playgroup, nursery and kindergarten levels. Our bilingual curriculum nurtures all aspects of the child's development, facilitating the transition from pre-school to primary school.
Holistic Curriculum
Alphabet Playhouse's holistic curriculum focuses on sports, music and nature to empower your child's learning through our fun, creative and well-balanced programmes! A play-based approach, we believe for young children, every experience or encounter presents a learning opportunity hence the preschool education plays an important role in the child's development.

Learning Through Play @ Alphabet Playhouse

Alphabet Playhouse inspires our children to explore, create and discover through active and fun learning, we develop their talents and potential to live their own stories. We welcome you to experience our East Coast centre from 17-30 Sep and find out more about our holistic curriculum, enormous outdoor playground and discover how we nurture children into outstanding and talented individuals.Sign up now at our website to secure a centre visit slot & receive the promotion.https://www.alphabetplayhouse.com.sg/new/experience-east-coast-centre#preschool #kindergarten #earlychildhoodeducation #childcare #preschooleducation #parenting

Posted by Alphabet Playhouse on Saturday, 21 September 2019
Visit us at Alphabet Playhouse @ East Coast from 18 Nov – 14 Dec 2019. It would certainly astound you to see what an amazing learning experience and environment we can provide for your child. There are exclusive waivers for new enrolments too. So hurry and register for a personalized tour now!


Well-rounded Education
Our unique play and musical-based curriculum provide the student with a fun method of learning languages, numeracy, science and arts. Our programme cultivates students' social, emotional and cognitive development during their formative years, laying the groundwork for on-going success in Primary school education and lifelong learning.
Chinese Language Immersion
At Alphabet Playhouse, our curriculum focus on the holistic development of the child through play-based programmes. Our innovative way of teaching the skill of Chinese language is creatively taught through the rhythmic pounding of the Cajón drum that stimulates brain function, resulting in higher intelligence.
Japanese Language Lesson
On top of our bilingual curriculum, we have complimentary Japanese class for our Japanese children. The class is conducted twice a week by our native Japanese teacher.
Outdoor Activities
Alphabet Playhouse @ East Coast Centre is certainly a wonder and a dream come true for every child. Little ones laugh in delight as they frolic and play in a vast area filled with a multitude of slides, climbing walls, monkey bars and more. They scoop, dig, pour and sift in the covered sand pit and then go splashing in the cool outdoor pool for some exciting water play.
The great outdoors is where the magic of learning truly happens as they explore and discover the abundant and lush flora that grows all around the school. With such a huge play area the little tots are spoilt for choice as they choose their favourite mode of conveyance, from tricycles to kick scooters, and zoom around with their friends to their hearts content.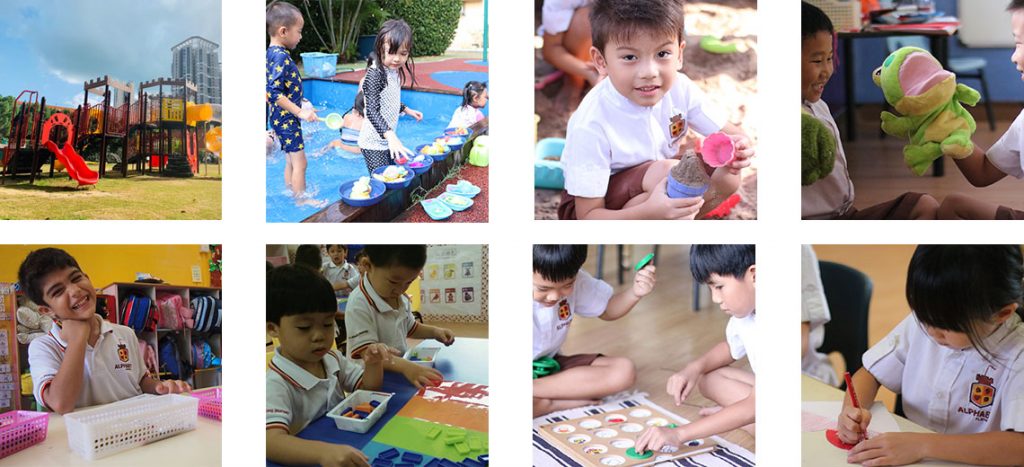 With over 20 years of quality education under our belt, our immersive environment ensures that your child will develop a sound foundation in the languages, mathematics, arts and sports, along with social and creative thinking skills through experiential learning.

Here's what our happy parent said about us:
As our oldest child graduates from Alphabet Playhouse this month Nov 2015, we are so happy when we think back to all the moments that have helped shape his learning and our family's experience in Singapore. I flip thru the pictures of the past 5 years and they are filled with incredible memories that have Alphabet Playhouse at the center. From the Singapore National Day celebrations, to all the birthdays we celebrated at the school, to the tremendous year end concerts. The friendships that we created with the other parents as well as our children's friendships with other students will be lifelong friendships.
None of this could have been possible if not for all the teachers who care very deeply for every student and of course the leadership and compassion of the school principal Miss Sharon Wan. They are all very kind, flexible and open about how our children are doing at school. We wanted a school that would allow us to be around and make the most of the precious pre-school time. We were very lucky to find Alphabet Playhouse which became a big part of our family.
As our oldest child graduates from Alphabet Playhouse this month, we will be very emotional that this important chapter in his life is coming to an end. But, we are excited in anticipation for the experiences to come and the learning that will shape and grow our other two children.
Thank you to everyone at Alphabet Playhouse,
Steve Repasky
Event Details
Date: 18 Nov – 14 Dec 2019
Location: 440A Upper East Coast Road, Singapore 466497
Mon – Fri: 9.00 AM – 10.30 AM / 3.00 PM – 4.30 PM
Note: For Saturday slots (23 Nov, 30 Nov, 7 Dec and 14 Dec), the time is from 9.00 AM – 10.30 AM. It is strictly upon request and subjected to availability, please submit a registration on the following online form and contact our centre for checking.
Promotion
Waiver of Registration Fee

$200* off monthly school fees for 12 months for full-time childcare programme. (Total value: $2400).

For half-day childcare programme, promotion is $100* off monthly school fees for 12 months. *T&Cs apply.
Benefits When You Visit Us During Period
Meet our friendly and passionate Principal & Teachers

Discover how we develop your child's confidence by nurturing his/her creativity, communication and critical thinking skills

Have a look at our centre facilities and our amenities for your child

Find out about the fees, subsidies and enjoy the promotion
Centre Visit Registration
Thank you! The event is over, for any enquiries, please click here to contact us or visit www.alphabetplayhouse.com.sg/contact-us
Terms & Conditions
This promotion is from 18 Nov – 14 Dec 2019 only, and is applicable for new enrolment for full-day and half-day programmes in Alphabet Playhouse at East Coast centres only.

To secure the promotion benefits, the parent needs to enrol the child and pay the 1-month school fee deposit, the child needs to start the class by Mar 2020. For any valid reason whereby the child cannot start class by Mar 2020, parent needs to discuss with the principal to confirm on the start date in order to secure the promotion.

The child should not be a previous Alphabet Playhouse student who withdrew from the school after 1st Oct 2019.

Fee rebate is given as a one-time credit off school fees for $100 or $200 over 12 month from the class start date. It is not transferable or convertible to cash in the event the parent withdraws before enjoying the fee rebate. Fee rebate is given on the same month for fees deduction.

Fee rebate is a rebate on top of any current subsidies. However, kindly note that parents who are paying monthly nett fees that are lower than the fee rebate amount may not be able to enjoy the full amount of the rebate.

Alphabet Playhouse reserves the right at any time at its sole discretion to determine, vary or change from time to time the terms and conditions of this offer without prior notice, by publishing the amended version on the Alphabet Playhouse website.